Apartment Dining Room Ideas In Fishers

Your apartment dining room offers more than just a basic location to eat before running off to your hectic life. It's where you make memories with friends and loved ones, enjoying meaningful conversation or a entertaining night of festivities. Chances are you'll make good use of it, so it makes sense to furnish the area in a manner you and others will enjoy.
If you're getting set to relocate into a new community, use these apartment dining room ideas in Fishers to craft an appealing, practical space.
Incorporate Some Flair Into Your Room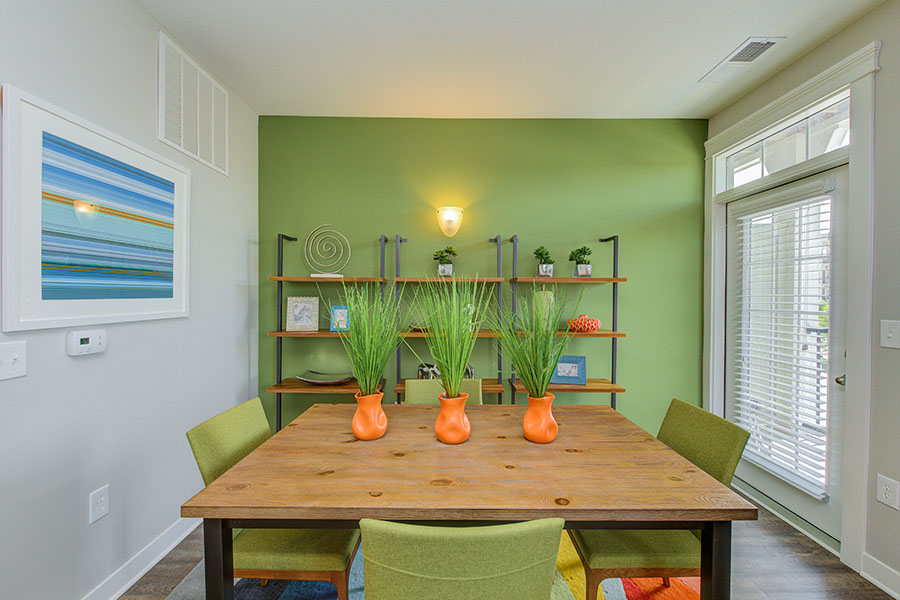 Your Fishers apartment dining room isn't required to be boring. There's no guideline that states your apartment dining room in Fishers must be mundane. In fact, inject a bit of pizzazz and let it reflect your own style. You might do this by creating your own centerpiece or integrating inspired wall art or a free-standing piece. If you prefer something a little more restrained, you might consider distinctive plates, placemats, and vases. Seats are another chance to demonstrate your flair for design by using cushions in your preference of patterns and colors.
Here are a couple of other recommendations on designing your dining room:
Ensure that it blends in with other parts of your apartment, such as your kitchen or adjacent living room. This is particularly significant for open-concept floor plans. If your kitchen has darker or lighter cabinetry, it's a smart decision to reflect that in the hue of your dining table and other decor items.
If you have an open apartment layout, you are able to distinguish the space with an area rug. This will bring a distinctive element of style while reducing noise as chairs slide out.
Use Proportionate Furniture In Your Fishers Apartment Dining Room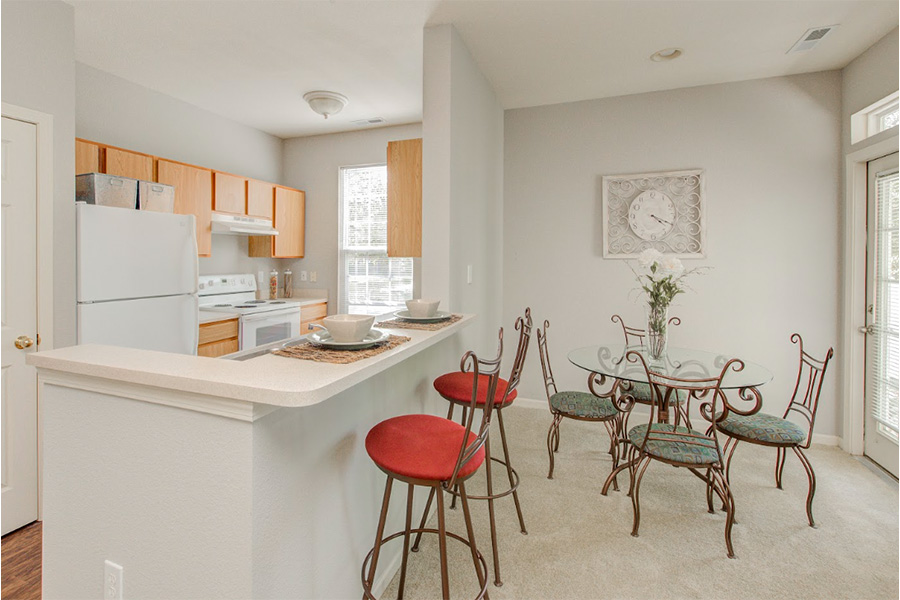 Regardless of whether your apartment dining room is large or tiny, it's important to select tables and other items that are suitable for the space you have available. Armchairs and bulky china cabinets have the tendency to make the space appear cramped. Conversely, pieces like circular tables are space smart. They're more maneuverable, and you can squeeze in an extra chair when required. If you use a rectangular table, bench seats you can set next to a wall is a wise choice. You could even consider an L-shaped bench when floor area is truly at a premium.
You can also utilize these other suggestions for making the most of your space:
Multi-functional pieces like extendable or drop-leaf tables are a wise choice. You might also incorporate a buffet or sideboard for extra storage.
A large mirror is able to make the room feel more substantial.
And, of course, don't neglect comfort when picking your seating. When you're a couple of hours into that exciting board game, you'll be glad your chairs have cushions.
Furnish Your New Apartment Dining Room At The Hamilton Luxury Apartment Homes
Put those new apartment dining room ideas to useIntegrate your new apartment dining room ideasNow that you have some good apartment dining room ideas, take advantage of them at The Hamilton Luxury Apartment Homes! Our luxury apartments in Fishers can be found in several different floor plans to match your distinctive preferences. You'll also enjoy access to a nice collection of amenities to complement your lifestyle. Schedule a tour to glimpse what we have to offer, or just give us a call at 317-900-4375.